GOING HOME

Reflections by Edsel Thomson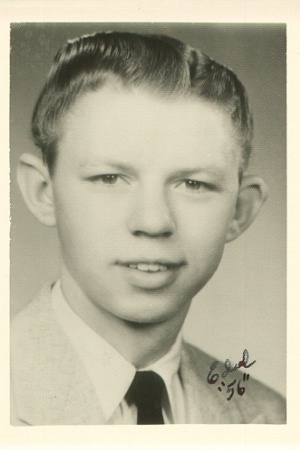 Click on photos to enlarge.
I always enjoy the drive from Colorado to my hometown of Cooperstown, North Dakota. I take the
remote roads through Wyoming and South Dakota where the countryside has not changed much since the days of the great buffalo herds. Many people would prefer to fly over this out-of-the-way area of the country, but I enjoy being on the ground taking photos and hunting for artifacts.
The anticipation builds as the familiar Cooperstown water tower suddenly peaks over the distant hills and trees from its perch atop Vinegar Hill. It is visible for miles in all directions on the vast Dakota prairie. It is a sure sign of being "home".
It is early summer and rows of beautiful green trees line the newly seeded grain fields. For generations, the farmers have been planting these shelter belts to slow down the never-ending wind. Their efforts to keep the rich soil and precious winter moisture from blowing to Minnesota have created a beautiful countryside. The boggy sloughs are full of water from the spring rains, and they are filled with migratory ducks and geese. Red Wing Blackbirds are nesting in the reeds. Lush green grass along the roadway has grown tall enough to wave freely in the steady, cool breeze that has kept down the mosquito activity.
The small family farms of years gone past, with their pastures that once grazed horses, cattle and sheep, are just a memory to savor. Most of the land is now in crop production with the big modern-day farmers.
As I eagerly approach the edge of town from the west, I remember that the by-pass highway on the
south side was completed a long time ago, but it still seems new to me. I enter town through the unfamiliar commercial area that has pulled business from the once lively old Main Street business district that is beginning to resemble a ghost town.
My mind is stooped in thought as I approach what was an intersection of two highways near the courthouse, and I instinctively come to a stop – forgetting they took the stop sign down decades ago when they built the by-pass.
I am anxious to see the old familiar places and people. It is late Saturday afternoon, a time when the town, as I remember it, was always full of people. As I approach the Main Street intersection, I slow down as though expecting a lot of traffic. I look up the street to the east, then west — there are only a couple of parked cars, and no people on the sidewalks. I wonder… what has happened to the lively Saturday nights I remember as a kid?
It is almost suppertime at the nursing home where my mother now resides so I decide not to disturb her until later. Maybe I should drive around awhile and get familiar with the changes that seem to be making me feel like a stranger.
The first thing I notice is that everything in town is so clean and orderly. The once rough, dusty streets are now paved and lined with big trees that embrace overhead creating a shady canopy. Many of the homes look freshly painted with the lawn neatly trimmed, and there are no loose dogs roaming the streets. The air smells clean and fresh from the recent rain.
I drive past the City Park where I worked for several summers as the swimming pool manager and lifeguard. The trees I helped plant and care for have grown up to provide shade and beauty to a very nice park. The ancient swings and slide I repainted and repaired every summer are still there serving another new generation of kids — in a town that has lost much of its population of children. The old steel pipes, with grass poking out of rusted holes, provide nesting and shelter to yet another family of chirping sparrows. The swimming pool is long gone and in its place are several horseshoe pits used mostly by the aging population.
The memorable old brick high school I attended, with its creaky wood floors and cold, drafty windows, was demolished a few years after I graduated. Somewhere, I think I still have a door knob I salvaged from the demolition rubble. It may be the one I would quickly turn trying to be the first to get out of school at the end of the day.
Seeing these changes disturb me a little as they are not what I came home to enjoy. I would like to remember things as they were. I decide to drive around to look for more familiar places. So, I turn my

car around and head back uptown to where the stores are already closed for the weekend.
I roll down the car window and stick my arm out – the way the young guys used to do as they hunched over the steering wheel and cruised up and down the two block long Main Street on a Saturday night -- Doing a U turn at each end -- back and forth. I slowly drive down the deserted street and began to visualize the stores as they once were.
In my mind, the street is soon filled with the joyful noise of city folk and farm families doing their weekly shopping and socializing as though it were a big reunion of old friends. The farmers have dropped off their week's collection of cream and eggs at the cream station. Young Andy Hagle is busy rinsing out the empty cream cans to send home, clean, with the farmers. The Mrs. will return later to get their payment so they can buy staples for another week. She will then gather round the parked car with friends to visit and greet people as they walk past. The men folks will quickly tend to their needs then probably head for the tavern to have a beer and talk about the crops and weather with their neighbors.
Summer is a time when friends and family members who have moved away come home for a visit. They are given the warm attention and importance of royalty. The voices and laughter I hear are as familiar to me now as they were back then – including the Scandinavian accents. Some would even be talking Norwegian – especially around the little kids. An unfamiliar face would not go unnoticed on this night.
I can smell the fresh buttered popcorn from the Strand Movie Theater and hamburgers frying at Ma Stone's Café. Fred Ashby and his popcorn machine are still at the corner in front of the Red Owl grocery store with a line of eager children waiting to buy popcorn and warm peanuts. Then, across
the street the Cooper High Band has taken its place on the vacant street corner by the Coast to Coast Hardware Store. I am sure I can hear musicians like Richard Sharpe, Vivian Kopperud, David Pella and my sister, LaVerne Thomson, above the rest. They shake the town's new streetlights when they start playing "The Stars and Strips Forever." Proud parents and grandparents gather to enjoy the music played by kids as young as about 10.
I recall how some people would park their car in the early afternoon to be assured their favorite people watching spot in front of the grocery stories and pool halls would not get taken by someone else. Others preferred to park in front of the mysterious Oasis bar and liquor store to see who has the nerve to actually use the front door. Others, I was told, would use the back door and stay late into the night.
The stale smell of Tang's Pool Hall comes back to me as I once again collect a few dimes for setting pins in the basement bowling alley. It was fun to go upstairs to the bartender to collect my

money and peek at whomever is there playing cards or perched at the long wooden bar. There were smelly brass spittoons on the floor for the tobacco chewers who didn't really care how good their aim was. There was always a friendly gathering with loud talking and lots of deep-voiced laughter. The men at the card tables looked very stern as they try to remember the cards that have been played. Then, they would give a loud shout as they slap their winning hand on the table for all to see.
A giant mosquito bites my arm and breaks my concentration, and I am reminded that some things have not changed. The evening is quiet and peaceful, and I am being haunted by my thoughts.
I slowly cruise some of the neighborhood streets where I once played as a kid. What back then seemed like miles from home, I realize now is only a few city blocks away. I often rode my bicycle on the rough, dirt roads to the far west edge of town to the Givan Brown farm. It seemed like a long ride, and there were mean dogs that would chase you, too, over there across the railroad tracks.
Mr. Brown was a farmer and horse trader, and he always had lots of horses to ride. He would rent them to people for trail rides along the quiet country roads and fields. I guess we were special friends, because he always let me ride for free. I loved hanging out at his barn, and I spent a lot of time there. As I got older, I exercised his racehorses and rode for him at the County Fair races. One time, I rode with him to a horse auction in Jamestown. It was 60 miles away, and I had never been that far from home before. He had a rickety old cattle truck with a few horses in the back to sell. We had to stop at all the creeks and sloughs along the way to keep filling the truck's steaming radiator with water. I didn't think about it back then, but that was a time when the draft horses, that used to work the fields, were no longer needed. They were being sold in large numbers since they had been replaced by tractors.
I drive back to my old neighborhood. I wonder… Is the tree in Pladson's back yard that produced those delicious crab apples still there? Us kids loved to sneak apples from it after dark. We were noisy with excitement and giggles as we filled our pockets, and I think Orpha and Ted Pladson nicely pretended not to know we were there as they never chased us away. I wonder… why did the Pladsons tear down the quaint old barn in their back yard. It was the scene of many of the neighborhood kids "old west" rubber-gun fights. My guns never were much good, but you wouldn't want to get hit by a rubber band from one of Duane Anderson's powerful home made rubber-gun rifles.
I wonder… How did the Johnson's ever get their big car in that tiny garage without hitting the sides? Mrs. Johnson's huge magazine rack in her living room inspired me, as an adult, to have lots of magazines and books in my home. She was also the only mother I knew that had a car and gave us kids a ride out to the river to swim.
Why did our parents let us swim in that dirty old Sheyenne River with its muddy bottom, snapping turtles and blood suckers? They must have known how much fun we had and the lifetime of memories it would make. How daring it

seemed to swing from the high riverbank and plunge into the deep, green water below. My brave cousin, Marilyn Stromme, would climb up high into the branches of the craggy old Oak tree whose trunk hugged the edge of the riverbank and leaned out over the water, its roots searching for soil that had washed away with the swift springtime current. Reaching her perch on a strong branch, she would jump. She seemed to hang in the air forever — then splash and disappear into the warm lazy river.
Duna (Hagen) Frigaard would walk, with only sandals on her feet, the 5 miles from her hotel job out to the river to give swimming lessons to us kids. I was quite intimidated when many years later she took an adult swimming class from me. I'm sure I didn't teach her anything new. That adult class also caused me to lose my girlfriend when I mistakenly gave her mother a poor grade.
I wonder… Why did they ever tear down the beautiful old Trinity Lutheran Church when they built the new brick one? What a treasure that would be now. Do the snow banks still drift as high as the power lines and treetops in the alleyway by Peter Njaa's old house? What fun we had sledding all the way down the alley. Do the high school boys still go outside in the winter to freeze their wet hair solid after their PE shower? Is there still a trace of our old fort north of town in the willows? Do the young boys still try to smoke the Indian tobacco weeds by rolling them in magazine paper and surprisingly draw hot flames into their mouth? Do the kids still go out to the town garbage dump at night to shoot rats in the beam of their car headlights? Does my friend, Roger McCardle, still own shiny new cars that he washes and waxes every Saturday afternoon? Do the kids still park at night with their girlfriend out by the town cemetery?
I remember teams of horses delivering coal on a freezing North Dakota winter day. The sound of each shovel full of the hard black coal, sliding down the cold steel shoot, would echo throughout the entire town. Then, there was the pleasant-sounding jingling of the horse's harnesses as they plowed gardens in the spring and mowed hay in the summer on the vacant city lots. I can still smell the sweet scent of their sweaty bodies.
I wonder… What effect does it have on the youth knowing they will need to leave their family and jobless hometown when they graduate from high school– never to return except for visits? My thoughts go on and on.
These pleasant thoughts are a reflection of the gratitude I feel for growing up in this neighborly little town filled with good people. It was a time that witnessed many changes. I have seen the wonderful family farms, as well as the small rural towns, become only a shadow of what they used to be. It was the end of an era.
I now see my hometown inhabited with people I don't know. When I walk the streets, I am the unfamiliar face. However, in my mind, I realize that the past may be gone, but it is real. And, I have a treasure chest filled with wonderful memories to share with those that may care.
— Originally Written in 1996 —
Dedicated to the community and friends who shared these memories with me.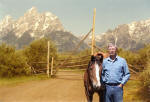 "Only the past is real. Even that reality is too often lost as recollection fails us and we neglect the record of the event. We discard the accomplishments not only of those who have gone before us but also the earlier phases and occurrences of our own lives. Let us devote ourselves to the preservation of this only reality in time that the efforts, sacrifices, and the achievements of the past are not wasted."
J.C. "Cap" McNeill (West Texas rancher) Inscription on wall of Margaret Elliot Museum, Spur, Texas — As quoted in "The Last Cowboy", by Davis L. Ford
5/20/2005